Cosmetic Dentistry in Corinth, MS
Your smile plays a huge part in how you take on the day. With a great smile, you can build better first impressions, gain more self-confidence, and even look more attractive (and younger!). At Dental Arts of Corinth, we want everyone to be able to enjoy the numerous benefits of a beautiful smile.
If you are unhappy with the appearance of your teeth — whether that be their alignment or their color — we can offer dramatic solutions with cosmetic dentistry. Contact us to schedule your complimentary cosmetic consultation!
Make an Appointment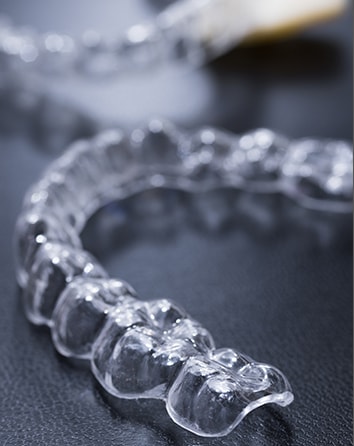 Invisalign® Clear Aligners
Dreaming of a straighter smile? You don't have to wear braces to get there! Invisalign® is a revolutionary orthodontic treatment that uses clear, plastic trays as an alternative to any brackets or wires.
Invisalign FAQ
What are the benefits of Invisalign?
There are many! First and foremost, Invisalign aligners are barely noticeable so you can enjoy a more subtle orthodontic treatment. They're also removable so there are no food restrictions and you won't have to change how you brush or floss. You can even take them out for special occasions!
What do Invisalign trays look and feel like?
Invisalign aligner trays are made out of virtually invisible plastic material. Since they are custom made for each patient, they'll fit snugly over your teeth. They're also gentle on your gums and cheeks!
How does Invisalign work?
You wear a specific set of aligners that are designed to move your teeth in a certain way. After six weeks or so, you'll pop in the next set until you've completed your treatment and gotten to your desired smile.
How long does Invisalign treatment take?
Average treatment times are between 9 and 18 months. The length of your treatment completely depends on how much shifting your teeth need. We can provide you with a more accurate estimate when we bring you in for a consultation.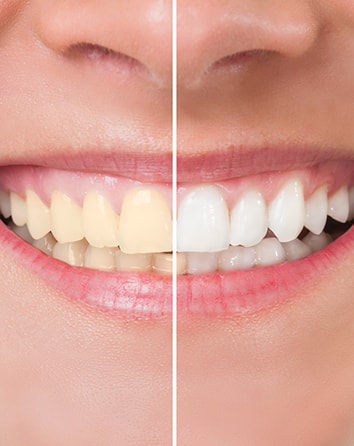 Professional Teeth Whitening
The color of your teeth is one of the major factors in the attractiveness of your smile. If you've noticed that your teeth are yellowing or getting duller, we can bring you back to shiny pearly whites with professional teeth whitening.
Teeth Whitening FAQ
What types of teeth whitening are there?
At Dental Arts of Corinth, we offer two different types of whitening treatment. With custom tray whitening, we'll first take impressions of your teeth so we can design trays specifically fit for your mouth. You can take these home and whiten your teeth when it's convenient for you!
With one-visit teeth whitening, all you have to do is come into our office and we'll take care of, and supervise, the entire whitening procedure. After just around an hour, you'll leave with a dramatically brighter smile!
What is the difference between over-the-counter products and professional teeth whitening?
The whitening products we use are stronger than drugstore brands. Whitening your teeth with these over-the-counter products could take weeks or months to get your desired results, while it's possible for us to do the same thing in one appointment. Not only that, but we'll be there to manage any sensitivity and ensure your teeth and gums stay healthy.
Is teeth whitening safe?
Research has shown that teeth whitening is a safe and effective procedure. While you may experience some tooth sensitivity, there are no adverse effects when used properly.